Is morocco safe for women to travel alone
Is morocco safe for women to travel alone? So many women want to visit Morocco alone but they remain doubtful about the safety of the place . This is due to  what is negatively  written by some articles and such .
We will explain to you the details necessary to travel to visit Morocco  either by alone women or a group of them .
We  provide you with the advices that will make your trip joyful and safer.
Morocco is the safest country in north africa and middle east .Therefore , this stability , security and safety have led tourism sector to grow incredibly .
In addition to this , Moroccans are well- known for their generousity and their welcoming nature to all kind of people worldwide  .
Accordingly , it is no wonder that Morocco is a  safe place  for women to travel alone .
When you look at the Moroccan history and culture , women held high ranks positions in all  of fields.  Their success was beyond limits:
After independence , women expanded their education ,gradually.
Then they attained the right to open a bank account even before some women did in France and spain .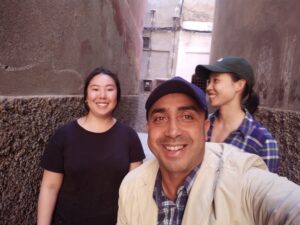 Clothing is not an issue for women to travel to Morocco :
Although Morocco is an Islamic country, women travelers are not obliged to wear (hijab)
The only exception is when women  want to get inside holy places .
Besides, it is much better not to wear provocative  or revealing clothing to avoid the strange looks, especially inside the old Medina .
However , in modern sections of the city , women-travelers can put on any clothes they like .
Morocco is a very diverse and safe  country for all travelers of the world . no matter what their nationality , gender, or ethnic background are .
The best way to avoid harassment in Morocco  , if there is any , is to ignore it and  do not reply .
Besides , Sexual harassment is punishable by Moroccan law, today.
Morocco is so safe when it comes to crime .
There are so many police  with plain uniforms to guarantee the safety of locals and tourists too .
However , one has to be precautions in high density areas all the time
Advice for women who like to travel to Morocco alone
Make it as a rule to be accompanied by some people. If you like to be alone , make sure to stay in places where there are people around .
Have the contact of BRIGADE TOURISTIC , in case .
Provide yourself with a certified tour guide and a professional driver who will help you to avoid any bad incident or misunderstanding .
Avoid staying late in places where there is a little or no traffic
Consult the reviews of women travelers who already came to morocco. The internet has made the whole world like a small village.
Have a functioning mobile phone with you, in case. The police number is 19 .
Don t look like you are lost. Walk with determination and purpose .
In public transportation , make sure you sit near women or families to feel safer .