Moroccan souvenirs to Shop in Marrakech :

ART DECOR

Lamps :
The best gift to buy is a beautiful lamp .
It is a gorgeous peice of art which can  make your house warmer and cosier.
lamps can have different shapes , qualities (silver , puter, brass and tin ), sizes and designes too .Some hang while others are freestanding .
It is better for any one who is willing to buy lamps to touch and observe their quality .
Therefore, make sure you choose the right ones please.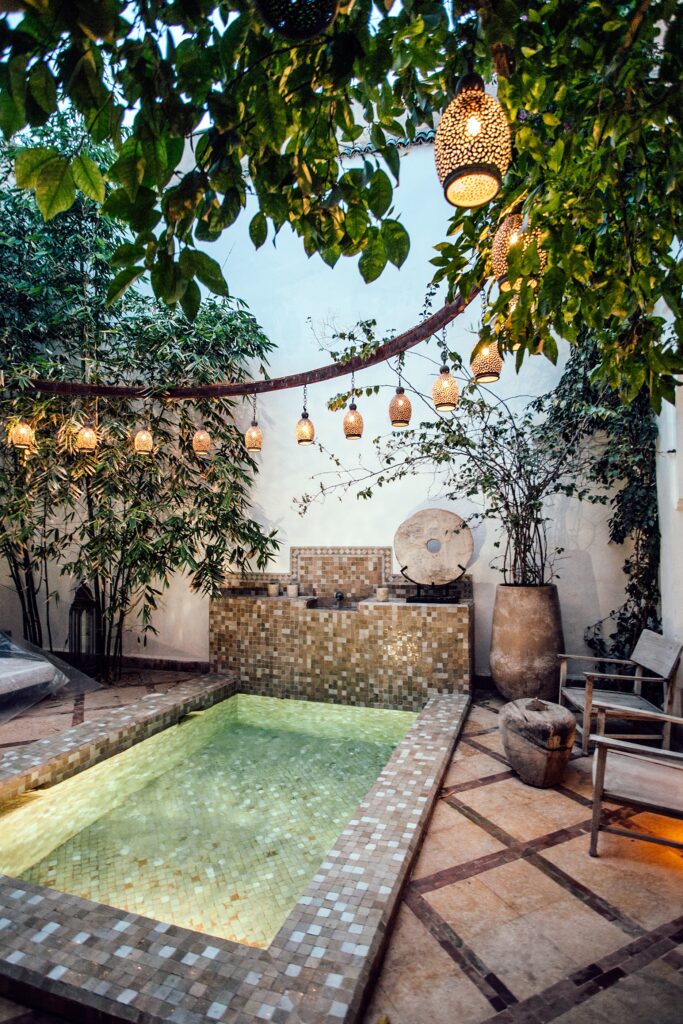 Leather cushions are so nice too to look at and buy them .
Their cost can vary according to the size,the quality and intricacy as well .
You can purchase one with 150 dirham , 300 dirham and the most intricate ones cost more .
In America , their price is 6 times the moroccan ones.
Remember , the good deal is when clients and vendors are happy .WIN WIN .
They are soft and beautiful with poms poms on each eand of them .
you can purchase them with their different colours and sizes .
Accordingly , they worth every penny.
the berbers have used carpets for centuries and they are hand made .
Women do most of the work and use them daily in their houses .Today , they are t one of the best items to buy in Marrakech .-
The middle and high atlas mountains are very famous places to make rugs which come in different sizes and colours .
Moroccan carpets have a lot of history and their reputation go beyong the globe today .
If you want to know more about moroccan carpets ,click here .
Moroccan wedding blankets (handira)
Tradionally , the berbers ( the native inhabitants of Morocco) use them as capes .
they are gorgeous as bed covers , on the wall (as a peice of decoration ), or like a rug .
What makes those wedding blankets fantastic is the metal shiny sequins on them as they make melodic jingly sounds.
Besides , the berber blankets have miraculous motifs which characterizes the berbers history.
Costmetic and Culinary

Argan oil
the hottest product to buy in Morocco is argan oil or saffron, today .
It becomes one of most well known oils all over the world .
Very famous women  singers and fashion designers use it for their skin and hair like Selena Gomez ,Kim Kardashian, Madonna       
In Marrakech , the streets are so full with this argan  oil and you can find it everywhere.,end to end , shop by shop .
There are 2 types of argan : edible and cosmetic .
Yes the argan oil has changed the lives of so many berbers and make Morocco very famous all over the world .
Therefore , one bottle of argan oil should end up in your suitcase but make sure you have the real one .
Some important imformations you should know about argan oil :
the culinary  argan oil has nutty smell and taste
you can t use the edible aragan oil for your face .
Each argan tree can produce 4 literes of argan oil , yearly .
The argan tree can live 150 years to 200 years.
                                                                                 Tips to Shop in Marrakech
the best place to shop is  the back part of the market where prices cheaper than the front part of the souk .
Some stores don t use the credit card .please take some cash with you .
Sometimes  you don t know if you are paying the real price or not .
therefore , get inside some shops to have a geral idea about the prices .then , negotiate for your products as much as you can .
If you are not happy about the prices, do as if you walk away .
This will make the sellers to call you to go back to their stores.
Accept mint tea if you really want to shop .Otherwise , reject it with a smile .
Leave the shop if the vendor is rude .
And finally , don t try to negotiate hard in places where there are fixed prices .
Generally speaking, if you come to Marrakech and need some Shopping help , click on this 
Shopping  is one of the most fascinating experiences in Marrakech.
The haggling , the browezing , the feelings of the experience is mindblowing .
Shopping helps  to  support the local businesses and help the Moroccan economy, too .
Accordinly , our comapany will take care of  this Marrakech Guided Experience and will never let you down .