Ouarzazate
Ouarzazate is a city in the south east of Morocco and a very popular destination for travelers from all over the world.
The best things to do in Ouarzazate is not to miss the attractions in it and make sure  you see  them all .
Yes Ouarzazate has an amazing , diversified landscape and it is the home of shooting so many international films .
In this blog, we will try to provide you with some necessary information and tips to plan your trip to Ouarzazate city.
General information about Ouarzazate :
Ouarzazate is the gate of sahara and all roads of the south of Morocco go through this amazing city .
From Marrakech to Ouarzazate it is , approximately, 200 kilometers with a travel time of 4 hours .
Once you reach Ouarzazate , you will notice the shinning light of the city ,the blue sky and the attractive landscape.
Therefore , Ouarzazate beomes the hub of handicrafts and trade , not to mention its importance in films industry.
Besides , the city  has also the largest Solar Power Plant in the world with the name Nour .
Things to do in Ouarzazate :
Here are the best things to do to do when you visit Ouarzazate and its surroundings :
Ouarzazate Film Studios :
Everyting in Ouarzazate  and its surroundings  revolve around film industry  .
The Atlas Cooperation Film studios and ClA studios are homes for shooting films such as :
The Pope , Gladiator , the Mummy , Games of Thrones  and many more .
Accordignly , it is worth noting that booking a Private Tour Guide is very important to know more about these above studios.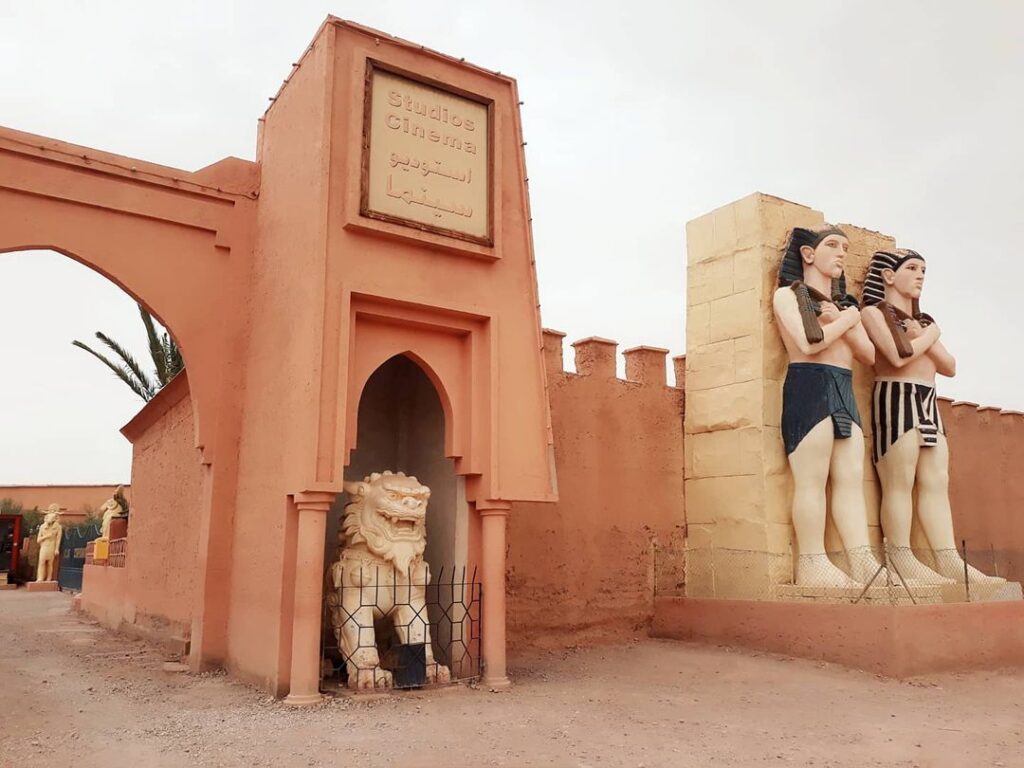 Ait Ben Haddou :
Away From Ouarzazate by 30 kilometres, make sure you don t miss this famous UNESCO World Heritage site .
Ait Ben Haddou is one of the main attractions to discover in Ouarzazate , a miraculous clay kasbah .
There are so many excurtions which can take place from  Marrakech to Ait Ben Haddou every day.
Furthermore , the  place ( Ait Ben Haddou ) is a film set for Gladiator and Prince of Persia too .
Our blog reommends The Paradise of Silence  rooftop as a place to feast your eyes about the beauty of sunset  and may be drink a cup of mint tea .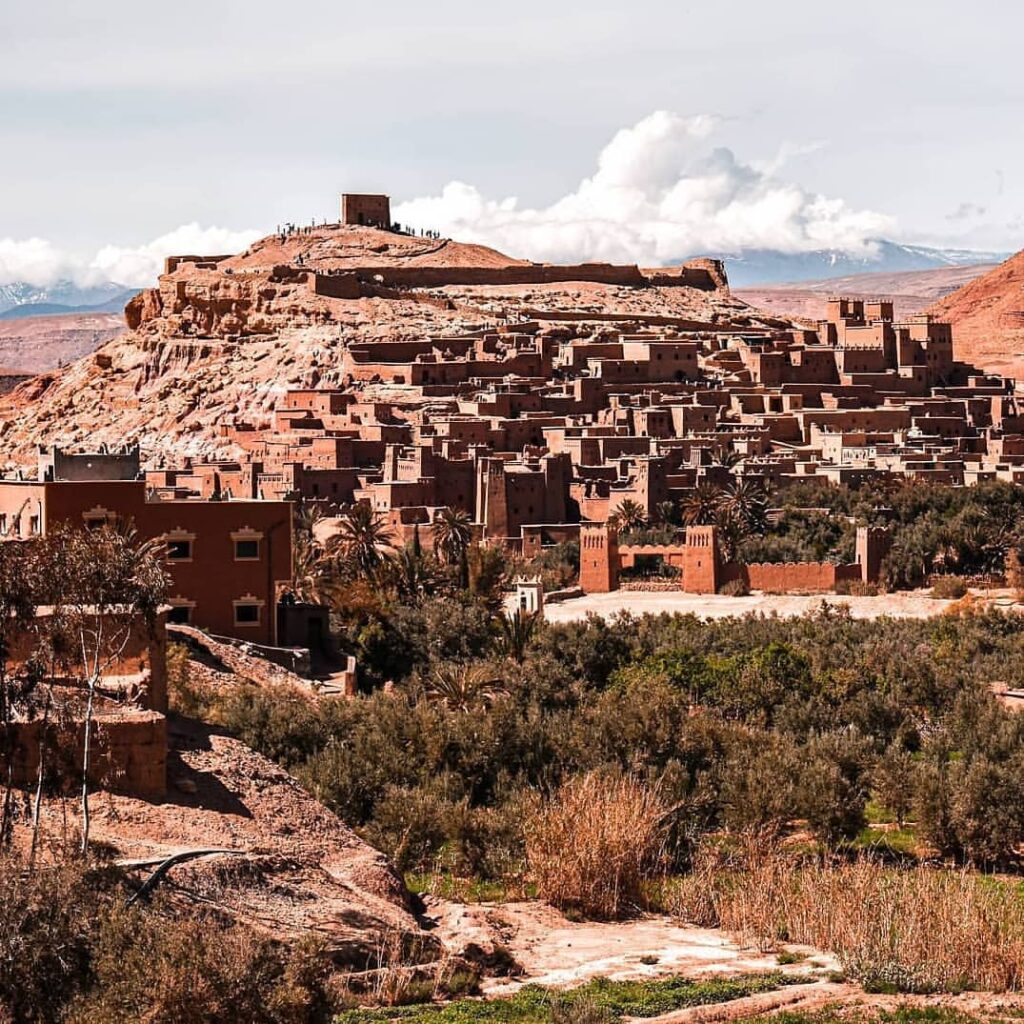 Gas Haven :
Around 35 kilometres from Ouarzazate  , we have an amazing set movie with the name Gas Haven which looks like the American West  .
If you are a fan of horror movies , the place will remind you of  The Hills Have Eyes .
It is also the same spot where the Moroccan singer Saad lmjerrad    shot a clip video of one of his songs .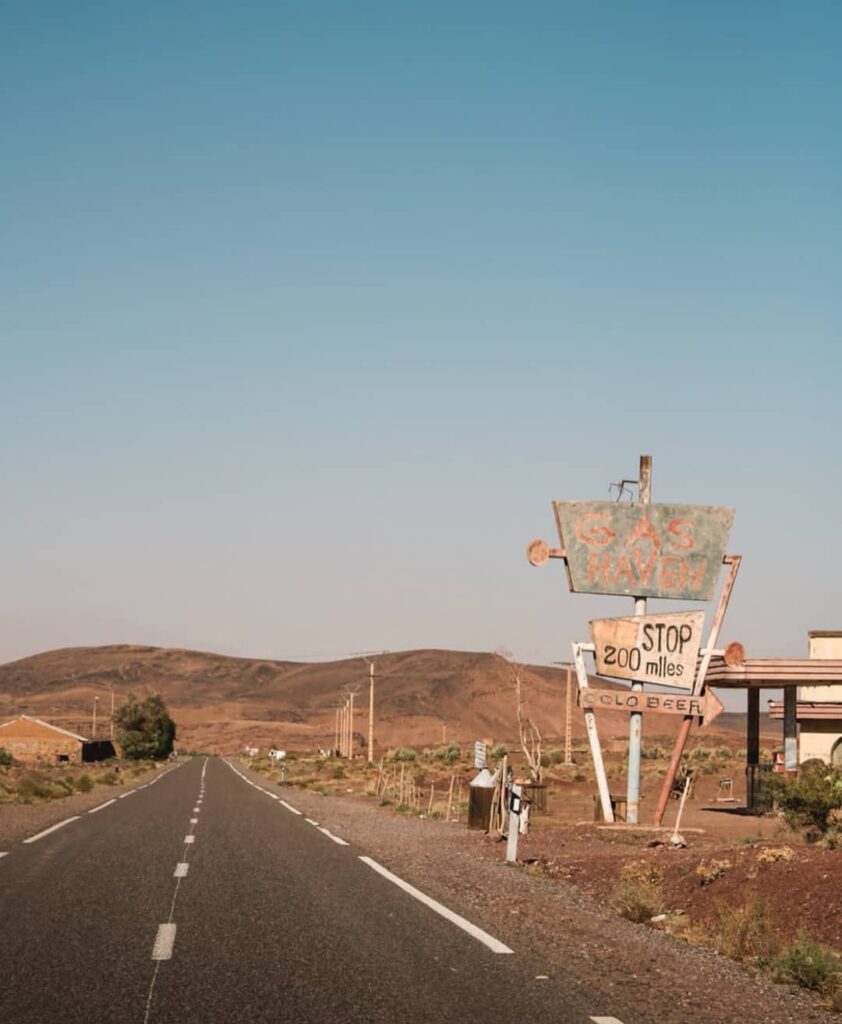 Fint Oasis :
Another interesting place to visit in Ouarzazte is Fint oasis ( 12 kilometres outside the city), a peice of heaven on earth.
If you want some shade under a palm date tree  in the middle of desert , it is the right place for you .
It feels so charming , magical and so quite   to explore this place .
The oasis has beautiful palm groves , river and red landscape which creates a special contrast in the irea .
Don t miss this attraction please .
Kasbah Taourirt :
One of the most impressive Kasbas in Morocco is Kasbah Tourirt and we highly recommend it for you .
The kasbah has to do with one of the most famous descion makers of the country , the Glaoui  family( thami Glaoui) .
Actually , Thami Glaoui who was the Pasha of Marrakech ,  used so many kasbahs including Kasbah Taourirt .
Yes the kasbah is in good conditions today  and a spectacular historical monument that worths a stop while you are in Ouarzazate .
You can get easily  lost in this huge kasbah which has 300 chambers , gateways , alleways and amzing doors.
Don t miss the top floors too .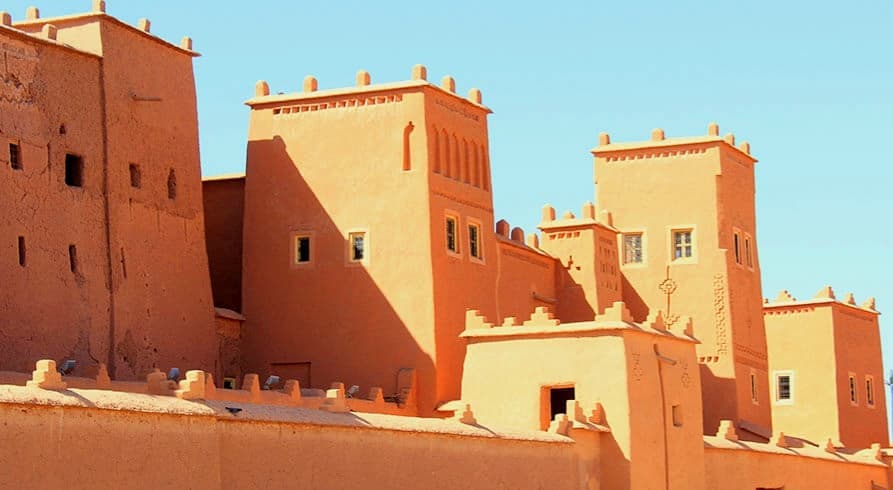 Kasbah Amridil :
It is a historical site which dates back to the 17 th century and it is the Nassiri Family who built this iconic place in Skoura.
The kasbah becomes very famous when it appeared in the film of Lawrence of Arabia .Today , the Nassiri family is the one
which takes care of its maintainance.
By the way , one part of the kasbah is still fonctional til today while the other part is a museum .
If you want to dive into the history of the south of morocco , the architecture of the kasbahs , it is worthwhile.
It is also a chance for you to know about the Berbers of the south , their traditions and their daily life  .
It is important to note that Amridil Kasbah is printed on the old 50 dirhams bill , very intersting indeed.
Cinema Museum :
It is a must see museum in the center of Ouarzazate and a paradise for movie lovers .
Originally , the place was an old studio ( 1982) to produce films  and converted afterwards into a museum in 2007 .
The museum is an opportunity for visitors to discover old film sets , cinematic equipments  , film clothes and many more.
You can see decorations , statues , costumes that film makers used during their shootings.
The location of the museum is easy to find , being it in front of the famous Kasbah Taourirt .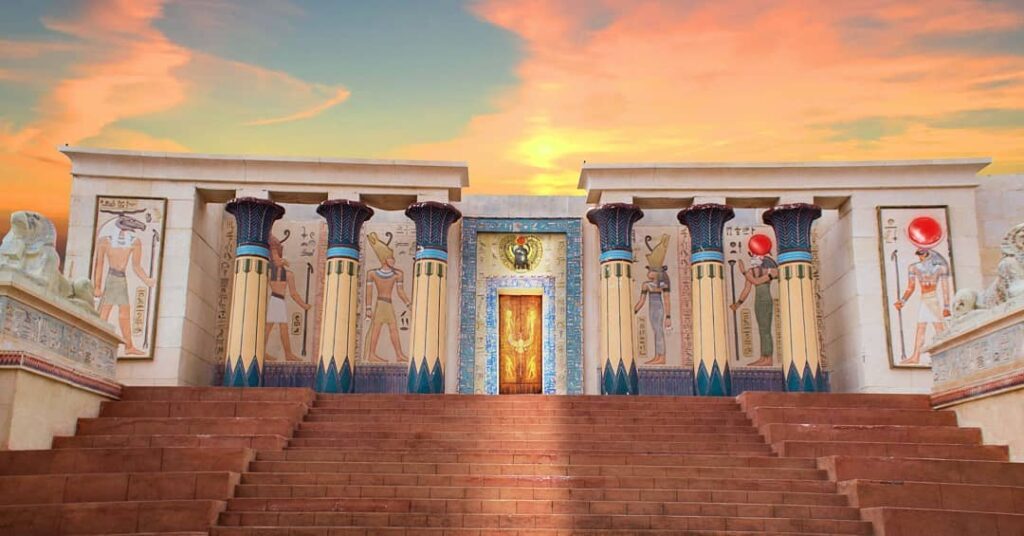 How to get to Ouarzazate?
Ouarzazate is the gate of the south of Morocco and  has many land  , air  connections .
Most of tourists go to Ouarzazate as part of  organized excurtions  or self drive . Public Transportation can be an option for
some travelers too .
Yes taxis and buses can get you to Ouarzazate easily  and quickly from most  cities of Morocco .
If you want to fly to the airport of Ouarzazate , you can use Royal Air Maroc .
Besides , most of the hotels can arrage your an airport pick for you and that is yhy you should tell  them in advance about it .
Where to stay in Ouarzazate?
Whether you are on a low budget or  want to indulge yourself in staying in a 5 stars hotel , Ouarzazate has everything for you .
The city Ouarzazate has gained a worldwide reputation and beomes the hub of Hollywood films.
A lot of celebrities stay in luxurious hotels and guesthouses that make their trips to Morocco unforgettable .
Maison D hote Dar Farhana is an example of a luxurious hotel where you can pamper yourself and enjoy the  amazing Moroccan  decor.
However , we recommend Hotel Amlal ( clean ) if you are on a budget .
for other recommendations , contact us and we will provide you with the necessary details.
We hope our Blog has covered  all the information you may need in case you are planning to go to Ouarzazate .
Here are the tours we do
Foodie Tour
We can also provide our dear clients with Transportation if they need it .