While you are in Marrakech private tour you will be amazed by the beautiful and multiple sites to visit and to enjoy, you will without any doubt fall under the charm of this stunning Moroccan imperial city.
 And to make your stay unforgettable a trip to the souks is without a doubt essential, whether you are looking for a bargain or simply for the pleasure of the eyes, so you should not miss such a visit during your Marrakech private tour.
 Marrakech is ranked among the most beautiful cities in Morocco, also its souks which are considered among the largest and the most incredible ones in Morocco where you can find everything you want, such as crafts, jewelry. spices, clothing, cooking…  The history of the souks is old, it is a place favored by caravans who used to trade their goods before facing the Moroccan deserts, and then it quickly became a gathering place for people and then they settled around it, forming different streets and villages.
 The activity of the souks of Marrakech mobilizes more than 40 000 craftsmen with many specialties in different fields. In this Marrakech private tour, you will lose your head among the different products quickly so why not negotiate and get some beautiful souvenirs from Morocco, without forgetting that negotiating represents a real game settles between the tourists and Moroccans.
Once in Marrakech private tour, you will go from one souk to another and then you will see how each one of them is destined for a specific type of merchandise don't worry to get lost Marrakchis are very available to show you the paths.
 Getting to the souks of Marrakech is very simple, all you need to do it to go to the famous Jamee el Fna place then venture into the medina.
Among the most interesting and beautiful souks to discover in Marrakech we find :
Smata souk (babouches)

The Chkairia souk (leather bags)

The jewelry souk (gold and silver souk)

The sou El Hadaddine (blacksmiths)

The Zrabi souk (carpets)
It is impossible to visit Marrakech private tours without going to discover its medina and souks, organized by district and by profession there is now almost souk representing a real labyrinth where it is very good to get lost and to be guided to discover the different rhythms of scents and colors. Live the adventure with Marrakech private tours.
The Smata Souk: If you are interested and fascinated by the Moroccan babouches or slippers then welcome, you are in the right place. In this souk which is located not that far from the famous and stunning Medersa Ben Youssef that you will discover during your Marrakech private tour, in this souk, you will find thousands of slippers suspended everywhere and covering the walls of the small streets. the Moroccan babouche is colorful, curved, and embroidered with golden thread or with beautiful pompoms, while in this paradise you have to be sure that you will find your happiness and you will find that pair of shoe that will fit your soul per excellence while strolling in Marrakech private tour.
Then there is the Carpet souk which is located only by few steps from the Smata souk, if you are looking for goods coming from Ouarzazate  then you are in the right place, whatever kind of carpet you want, you will find the one that fits your taste just right here, and as a result you will amaze your eyes and you will learn different meanings and origins about the Moroccan carpets, and you will also discover during your Marrakech private tour that Marrakchis sellers are always generous and ready to give you all the information you need.
Moreover, there is also souk Attarine, specialized in spices where you will find many spices and mixtures for cooking tasty Moroccan dishes, if you are planning to make a Moroccan dish, all you have to do it to ask the spices seller about the recipe and the spices that will go with it and be ready to live a whole new experience while you are in Marrakech private tour.
If you are a leather fan, then don't worry there is a souk only for it, called the Cherratine and Serrajine souks, in these two souks you will appreciate the work of leather in all its forms and splendor. At Souk Cherratine that you will visit during your Marrakech private tour, you will be able to find bags, wallets, and also belts, or while you are in Serrajine souk, it is the great Moroccan tradition which is put forward with saddles and boots that are made there.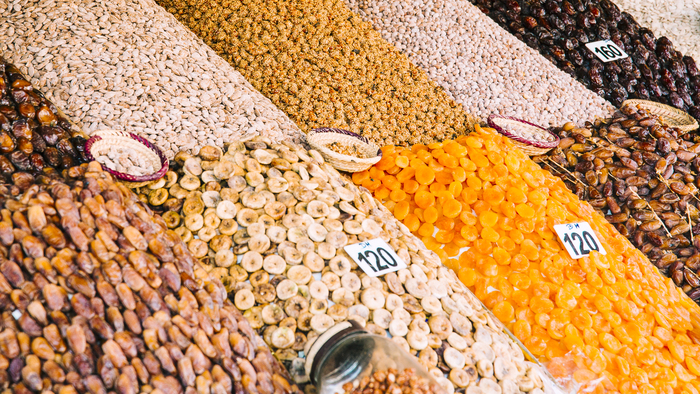 Are you inspired by the Moroccan culture and you want to learn more about it, then there is no better place to do it than visiting the Dhaibia souk or in another term the jewels souk while in Marrakech private tour, in this souk all you need to do is to open your eyes and to find the items of your dreams, objects, pieces of jewelry from Arabic tales such as pendants, bracelets, and rings with a very unique and specific design. You will also find real Berber jewelry with their unique old style and design, and even more modern jewelry as well as antiques.
Located at the gate of the same name, Souk el Khemis was once a former camel market and transformed today to a huge flea market, this souk is now home to many second-hand dealers and their objects of all kinds, people come here then in order to search for old objects or furniture and willing the find the rare pearl and the perfect deal.
Because of the new methods and technologies, there are fewer and fewer dyers working, in this souk " Sebbaghine souk" we still find skeins of wool tinted and dying under the sun, and also gigantic pots in which artisans dip wool and silk. you will be amazed by the beauty of colors in this souk in your Marrakech private tour.
There is also the souk Chouari which means basket makers and wood turners where you can see the ancestral work if the basket makers and even do some shopping, in this souk, there is personalized hats, colored baskets or even decorated with pompoms… in this souk, anything is possible all you need to do is to turn on your imagination, in the souk Chaouri you can also see the work of the wood turner and by beautiful kitchen utensils as decorative objects.
All the souks in Marrakech that you will visit during your Marrakech private tour, are open from 8:30 to 21 some of the artisans are settling later in the morning, but they are also pulling their curtain later in the evening, you also have to know that many shops are closed on Fridays. During the weekday's merchants may leave their shop for a few minutes in order to get to the mosque during prayers. Just be a little patience and then you will have the objects of your dreams in your collection.
Do not Hesitate to book a Marrakech private tour now with our agency, trust us and you will discover the most stunning hidden places of Marrakech.